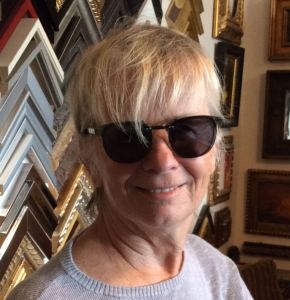 For me, the purpose of drawing is functional. It's a means of asking real and probing questions about form, proportion, line and darks and lights as they define and describe an object or thought. When I put the answer down on a piece of paper I have a drawing. The quality of the work depends solely on the depth of my questions and the truthfulness of my answers.  The act of drawing is a conversation with myself, which elevates the work to a more meaningful and less self-conscious attitude and approach.
I'm curious. I use line to define the form. I use pencil and brush to build the form. The two are integrated and interdependent in real form. To remain meaningful in my intentions I carry my curiosity and energy through the layers of style, mannerisms, techniques, and use of color that defines my original investigation.
My challenge…keep my work an honest reflection of the panoramas and vistas that surround me. I nuance these surroundings in shades and hues of oil pigment on paper and transform flowers, canyons and stars into elements that are as bold as the earth and sky themselves.
Inspired moments keep me rooted in my passion for drawing.  My hope…create a tension of dynamic rhythm between color and light. I work on several different pieces at once.  The cross pollination of going from a night sky to an abstract interpretation inspires me. My goal is for my art to remain as consistent and varied as the desert plateaus that not only inspires my work but cradles my life.
I stay true to the evolving journey that takes each individual work of art to its completion. Each painting is framed under my direction to ensure the highest artistic and preservation standards.
My work can be seen in Taos, NM at Wilder Nightingale Fine Art, Country Furnishings of Taos and Barry Norris Studio.  In Durango, Colorado my work can be seen  in Sorrel Sky Gallery. In addition, my work is available for sale on line.  Please feel free to contact me if you are interested in purchasing.